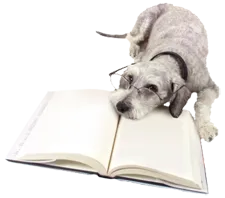 Southwest Veterinary Hospital, PC is aware of the vast amount of information available on the Internet. Our team has taken the time and evaluated the following sites. We trust the information the listed websites provide to you, our client, and member of our family.
American Animal Hospital Association
www.aaha.org

American Board of Veterinary Practitioners
www.abvp.com
American College of Veterinary Internal Medicine
www.acvim.org
American Kennel Club
www.akc.org
American Veterinary Medical Association
www.avma.org
Association of American Veterinary Medical Colleges
www.aavmc.org
Agility Information
www.cleanrun.com
Center for Veterinary Medicine- U.S. Food and Drug Administration
www.fda.gov/AboutFDA
FOR CHILDREN:
Kids and pets
http://www.kidsites.com/sites-edu/animals.htm
A great site for kids to explore the wonderful world of pets and all of the animals in the world!
FOR EVERY PET OWNER:
Orthopedic bracing can be an option in some cases! This is a local company and they do great work.
https://orthopets.com/
Dental care at home doesn't have to be hard! Check out this information from the AVMA
https://www.avma.org/resources-tools/pet-owners/petcare/pet-dental-care
Pet loss is unbelievably hard. On this site, you'll find great resources and understanding people.
https://www.aplb.org/
Pets always manage to find something that can be toxic – this link takes you to the National Animal Poison Control Center to get help http://www.anapsid.org/resources/napcc.html
Heartworm infection isn't just for dogs! The American Heartworm Society can tell you all you need to know. https://www.heartwormsociety.org/
The ultimate source for information on cats can be found here at the Cornell Feline Health Center
https://www.vet.cornell.edu/departments-centers-and-institutes/cornell-feline-health-center
A diagnosis of feline asthma can be scary – but these folks can help
https://felineasthma.org/
New kitten?? This guide helps you make the right choice for your family.
https://icatcare.org/advice/choosing-a-kitten/
Puppies are cute, but you need the one that works for you – read this for helpful ideas.
https://www.companionanimalpsychology.com/2016/04/how-to-choose-right-puppy-in-four-easy.html